Mike Pence on Healing the Land
Posted on Mon 23 March 2020 in misc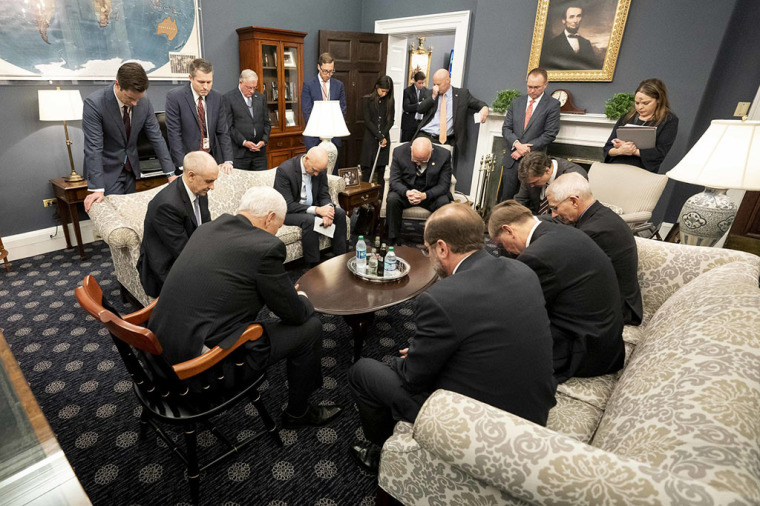 At today's White House Coronavirus Task Force briefing, Vice President Mike Pence closed his remarks with the words "heal the land." This phrase has a lot of resonance among charismatic evangelical Christians. I'll explain:
The relevant verse here is 2 Chronicles 7:14, "If my people, which are called by my name, shall humble themselves, and pray, and seek my face, and turn from their wicked ways; then will I hear from heaven, and will forgive their sin, and will heal their land" (KJV).
I've heard the phrase "if my people" and "heal their land" a great deal in some Christian circles. The short phrases are a stand-in for the whole verse which calls for humility, prayer and conversion.
Related, on Feb. 26 many mocked Vice President Pence for this photo of the Coronavirus task force at prayer. For some Christian interpretation of 2 Chronicles 7:14, this was a necessary prerequisite for the "healing the land."
This piece by Tony Evans appeared in Franklin Graham's Decision Magazine under the title "If My People." Like many uses of the phrase it prescribes prayer and evangelism to address America's ills. In my experience, the talks and articles that cite the "If my people...heal the land," verse are usually vague and evasive about what America's ills specifically are. Whatever they are, prayer and evangelism is the answer.
My guess is that there is a lot of "dog whistle" involved in that the speaker can refer to "healing the land" without naming ills and the listener is ready to supply them privately from the unspoken agreement.
Usually this dog whistle has a politically conservative valence, but the kind of speech has its liberal versions too. Among progressive Christians you'll hear references to Micah 6:8 and Amos 5:24 as ways to position themselves around humility, justice and the well-being of all.
For me, I'd like to see Vice President Pence's use of this verse lean into the "humility" part of the verse. I'm fine with the prayer and evangelism but the humility to defer to scientific and medical experts certainly has a place in the "healing of the land.